News 2010
A Challenging Nevis To St Kitts Cross Channel Swim By Steven Munatones
(The following article was written by Steve Munatones and featured on these specialist Open Ocean Swim websites)
57 women and 43 men participated in last month's Nevis to St. Kitts Cross Channel Swim, also known as the Bente Weber Memorial 4.2K Cross-channel Swim.

Under challenging conditions, swimmers crossed the channel between the two islands of the smallest nation in the Americas both in area and population.

Although the conditions were tough with wind, chop and currents, the competition from all over the Americas took it in stride. The 8th annual crossing between Oualie Beach on Nevis and Cockleshell Beach on St. Kitts saw American woman Rhian Purdy set a new record of 1:05.21 with Roger Brown in second (1:05.38) and Marlise Davidson in third (1:06.07).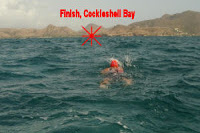 While the growth and competition was good, the demographics of the event were noteworthy. Similar to the Great Swim in Great Britain, the Bente Weber Memorial 4.2K Cross-channel Swim"> is remarkable in that the women outnumber the men, a change from the latter part of the 20th century when the ratio of men to women consistently was in the 2:1 range.

Winston Crooke, president of the Nevis Triathlon/Cycle Club, announced the 2011 race will be held on March 27th.

Will the magical one-hour mark be broken under the right conditions?http://www.dailynewsofopenwaterswimming.com/2010/04/challenging-nevis-to-st-kitts-cross.html
http://www.thewaterisopen.com/news/full/crossing_the_channel_from_nevis_to_st_kitts
http://www.worldopenwaterswimmingassociation.com/index.php?page=blog_page&team;_id=53&cat;=news&nid;=4402
http://www.pacificopenwater.com/daily-news-of-open-water-swimming